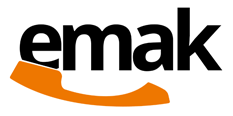 « Back to MVP
EMAK Telecom is a Montreal-based telecommunication service provider that offers small and medium businesses across Canada the most dependable contract-free company phone services. We believe that Canadian company owners deserve cutting-edge, feature-rich phone service for a fraction of the cost of the big boys, and that you shouldn't have to sacrifice reliability or service quality to obtain it.
We take pride in providing our customers with affordable all-inclusive pricing. All our company plans include all of our revolutionary features, so you won't have to waste time comparing feature tables. You get exactly what you see.
We help every single one of our customers enhance their communication workflows by leveraging our 17 years of industry experience.