Top 10 Home Defects – How to Spot and Deal with Them – Part 2
For nearly 15 years, Mose Home Inspection Services (MHIS) has been working to make home owners and prospective buyers more knowledgeable. The goal is to help them be better prepared to make an informed decision when buying, selling or renovating a home. Michael Winkel, one of our home inspectors, has done some research and prepared this list of the top 10 home defects. Over the next two weeks, we'll examine the Top 10 Defects in Homes – How to Spot and Deal with Them!
At Mose Home Inspection Services, we encounter certain issues time and time again – I decided it would be a good idea to crunch some numbers and come up with these Top Ten defects we find in homes and, better still, show you how to address them so you have a more successful home inspection.
My results are based on all inspections we performed in the year 2017. The percentage indicates the percentage of inspections where we found the issue. The dollar signs indicate a rough estimate of costs to repair ($=less than 1,000 $$=2,000-10,000 $$$=10,000+).
Now without further ado, (drum rolls please) here are the defects from 6 to 10!
#6  top home defect
Missing caulking around toilet base – 39%, $
Caulking should be installed to limit water damage to structural materials and finishes around the toilet base.
When caulking a toilet around its base, leave an un-caulked section to the rear so if the wax seal under the toilet ever leaks, it will be visible and won't get trapped behind the caulking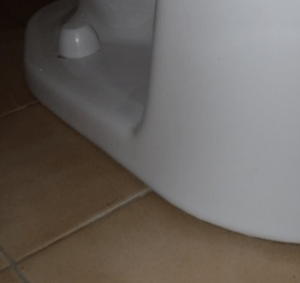 #7 top home defect
Downspouts discharging too close to building – 38%, $
It is important to keep water away from the foundations to prevent water infiltration and associated damages to the structure and interior finishes, as well as to prevent facilitation of mold growth inside.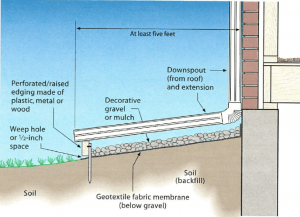 Downspouts can deposit large amounts of water in a short time close to the foundation, if they are not extended away from the house. It is recommended to extend them at least 6 feet away. Less can also be acceptable, provided the water can easily drain away from the house, for example on asphalt surfaces sloping away from the building. 90% of water infiltration problems are solved by addressing exterior issues, such as downspout discharge locations, as well as the grading of the lot.
#8 top home defect
Rubber washing machine water hoses – 36%, $
We always recommend that you install good quality stainless steel hoses for the washing machine, water, hot and cold water supply.
Rubber hoses are more prone to hose failure and associated water damage. In fact, hoses are the number one reason of water leakage in a house. Number 2 is the washing machine itself, so always turn off the valves when not in use.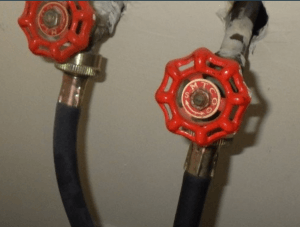 #9 top home defect
Deteriorated caulking around doors and windows – 34%, $-$$
Any caulking applied on the exterior will eventually become hard, brittle, and develop cracks. The life of the caulking could be anywhere between 10 to 30 years, depending on its quality. Older type of caulking tends to be of lesser quality than newer products. When caulking fails, water can seep in behind and cause more damage. We would go as far as saying that a caulking gun is a home owners most important tool!
To do a proper job at it, the old caulking should be removed completely before applying the new one. The nicest caulking joint can fail soon again if installed over old caulking. This could be a DIY job for the handy home owner, but it does take practice to get good looking results, too.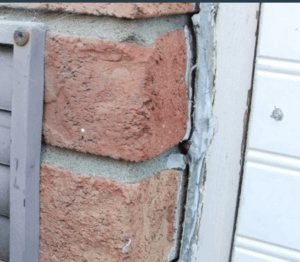 And finally, here is #10 of the top 10 home defects
Roof covering near or past life expectancy – 33%, $$-$$$.
Roof coverings need to be renewed regularly, and the life span of the roof depends on its type, as well as the quality of materials used. Life spans range from 15 years for low-end asphalt shingles to 100+ years for top-of-the-line copper or slate roofs. Asphalt shingles are available in different qualities, ranging in expected life span from 15 to 35 years. Building inspectors are trained to determine whether a roof covering is near the end or past its useful life.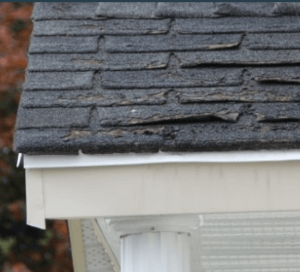 It can be difficult to determine the actual age however, because the quality of materials used is not usually apparent. A 15-year old low-quality asphalt shingle roof may look pretty much the same as a 35-year old one, where high-quality shingles have been used.
Therefore, it is always a good idea to ask the current home owner when and if the roof was renewed, what quality of materials has been used, and if there is still a guarantee on it.
And there you have it – the Top 10 Home Defects – How to Spot and Deal with Them! We would like to thank Michael Winkel, one of intrepid inspectors for contributing this article for the MOSE Report. If you would like Michael to perform your next inspection, please ask for him and we will be glad to book him for you.
We hope you enjoyed this article on the Top 10 Defects found in homes. Our goal at Mose Home Inspection Services is to make home owners, buyers and real estate professionals aware and up to date on the latest news information and technology that will make them informed buyers and sellers.
Please visit https://homeinspectionmontreal.com/online-booking/ to get -an online quote and book your next inspection from the convenience of your computer 24/7, another innovation brought to you by the pros at MOSE!
Interested in understanding what a pre-listing inspection is and how it can save you
time and a lot of money? Click the image below to download your FREE report.